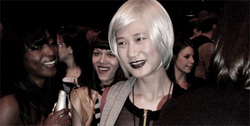 I first met Ping at a contributors' meeting for this magazine. We got to talking, and she told me that she was setting up a fashion-design line here in her hometown after years and years abroad but that she was eager to get involved in the international community in Chengdu. We stayed in touch; she periodically returned to Chengdu to visit family and penned several memoir-style pieces for the magazine. One day late last year I got an e-mail from her that said she would be on American reality show Project Runway, in which 16 fashion designers with varying degrees of experience compete against each other. The show, spearheaded by enterprising supermodel Heidi Klum, is in its seventh season. This was a Big Deal: Ping, boisterous, all limbs, who speaks English with an unexplainable hint of a French accent and who once wondered, as she failed to get online, how her computer knew her name. Ping, from the sleepy Chinese city of Chengdu, would be on primetime.
Born into a family of Chengdu's elite, Western-educated doctors (her grandfather was the first Chinese president of Huaxi University), Ping the child always knew she would go abroad one day. She fantasized about her future in film. But after a serious bout with hepatitis A delivered a blow of reality, she quit the fake world of movies and followed her family into a healthcare profession—physical therapy ("it has the shortest history and thus best potential to combine Western and Eastern approaches," she says). She earned her degree in the U.S. and started working by the age of 21. Looking to fill her evenings after work, she signed up for community courses in ceramics, discovered her artistic flair and passion for working with materials, and enrolled in an eight-month fashion-design course in Milan and subsequent internship in Paris. In 2008, Ping Wu Design Studio was launched. The line's hand-knit accessories are made in Chengdu and sell in boutiques in Japan, France, and the U.S. She relocated to New York late last year. "I'm quite optimistic for my Tiger Year," she told me in early January.
Later that month, the new season of Project Runway started airing. Ping finished among the top three designers in the first round with what appeared to be a no-sew garment: Large pieces of fabric draped on and around the model's body. Drama between the designers occupied most of the show's airtime. Ping, the Asian lady with the Accent. Ping, the excitable scatterbrain. Ping, the creative genius? Entertainment bloggers went nuts: That design was horrible! Ping is a nutcase! Are the judges crazy? The next week, things took a turn for the worse: Ping's potato-sack garment left the model's rear end clearly visible as she walked down the runway ("I did check the split in the back of the skirt when she was standing. I couldn't see her buttocks. If she had walked, I would for sure notice the problem," she said in her defense). But the (sewing) needle and the damage done: By the third show, Ping was eliminated. In real life, she typed her name into Google and read nasty things written by people who had never talked to her. Then she strengthened her bases for the flood of invitations to shows and orders for her designs. Tiger Year indeed.
Finding Her Way
My mom insisted that if I want to study abroad, then she would send my father to be with me, and I hated that idea. I hated to have a pre-set life path under my family influence. I always very much want to see what I can do in an environment where nobody knows my family. I want to earn the respect with my own ability.
Back in the early '90s, a lot of [Chinese] people just wanted to go to abroad, they didn't wanna come back, but it was never in my mind. I chose physical therapy at the time as there was no such field in China—now China started to have this field, and they desperately need people in this. I planned to establish the first physical-therapy clinic in China, and when I realized I wasn't the first one, I was quite upset. But now I fell in love with fashion design, so I guess I have to delay my physical therapy dream.
I choose each field because it serves something to my soul. I love physical therapy. I love the interaction with people and helping people, and I really love my patients. I'm much more a therapist than a designer, I guess. I perfectly see the connection because I know the human body, I'm an expert in human movement. And also I always imagine how the body would feel once you put the clothes on.
I started making my own clothes, and of course I didn't invest in any sewing machines, and I did not understand the pattern-making books, so I just made my own way, and it was a coincidence that I was invited by some serious ladies to their show-and-tell dinner party. I brought the pieces I made, and all these serious ladies—professionals—loved what I made. So I was thinking if I can make things without even studying, and so many people like it, then I bet I can make even better things if I really studied seriously.
When I went to study fashion design I was almost 29—quite embarrassing actually—I did not realize how terrible it was until I was there. Age was a huge factor in the fashion world, especially in Europe. And I [had always been] the youngest in my class, so it was a very new experience to feel discriminated against for your age and also for your gender. Most of the program itself is extremely intense—it's like if you shrink a four-year program into eight months. I was the only student who really knew nothing—absolutely zero—about fashion. When the teacher asked us who is our favorite designer, I was like, "I don't know." During the new-student orientation everybody's wearing Gucci, Prada, Chanel, from teacher to students, all wearing black. It's crazy to me.
Being Chinese in Fashion and Fashion in China
I'm always Chinese, regardless. I've been abroad for 16 years, and I've never changed my nationality; I still kept my Chinese passport. When I was in Milan, my teacher saw my collection and said, 'Ping, you are a very different Chinese student. Your design—if I look at the work, I won't be able to tell it's designed by a Chinese. It's very Oriental influenced, but it's very Western.' And I think that's me.
I think China has—especially young designers—more and more designers finding their own voice. They are not just copying Western designs. And sometimes I think it doesn't have to be a enemy situations. When I was in Chicago, I know there are some designers absolutely against anything manufactured in China. And I think that is really being ignorant.
People have a lot of buying power in Chengdu. And the clothing actually are quite expensive. I think it's the culture, that clothes somehow are quite important for Chengdu girls. But from a fashion point of view, I feel it's less inspiring. People dress pretty much the same way. In the States a lot of people are wearing very casually. And they don't care about what other people may say about their way of looking. But here they really dress for the look. However, the way they put together things are very much expected.
Ping Wu Design Studio
I can do all kinds of designs—I think I can really design very good shoes because of my therapy background. My specialty is outpatient orthopedics. I actually also did jewelry design first—I didn't continue because you need a lot of money to invest in good materials, good machine. And I think I can also design very good medical equipment, such as walkers, very fashionable and very simple, elegant walkers. I would love to design for medical staff, nurses and doctors and therapists, hospital uniforms. But for my own business, I would like it to be successful in a small niche first. That's why I chose hand-knit fashion accessories: hats, scarves, gloves, shoes, masks, ear mufflers.
When I was 5 years old, my classmate, a 6-year-old child, taught me how to knit. And then when I went home that day, my mom told me how to knit purl. So these two stitches I learned when I was 5 years old, and I never touched needles and yarns for more than 20 years.
Technique for me is just a tool. But my concern is not about technical stuff, because if I want to create certain shapes, I can always hire an expert in pattern-making. What I think most important for designer is the mind—is the creative mind—because this is something no one else could replace you.
People who want to buy my products are very creative people—they want to play with, interact, create their customized, unique look. So even if two customers, three customers, five customers bought the same hat, same scarf, they can wear multiple different ways. When they met each other on the street, they won't look the same.
I think design should be based on function, and if you can find a beautiful and easy way to deliver that function, then that is a smart design. My first piece was a scarf that could also be used as a hat, and also a mask. And also a pair of gloves. I will never design any piece that I myself will not want to wear. Design should come from inside out. I think a lot of pieces are more focused on the look, and I think that is quite superficial. Functionality is the only timeless trend.
Ping on the Runway
Ever since I returned to the States in 2006, my colleagues were telling me, "Ping, you should get on Project Runway," and I never paid attention 'cause I thought that was pretty far from what I do, fashion accessories. Making garments wasn't my immediate concern. I had a relatively easy schedule at the time, so I was basically looking for things to fulfill my schedule, and then I received an e-mail with a big title "The Deadline is coming close." I just automatically jump into anything that says "Deadline" so I read their requirement, just out of curiosity; I never thought I would apply. I looked at all their questions and application, and I thought I can answer all of them easily. I finished and submit my application the night before the deadline, and of course I never thought I would get selected—never. It's a nationwide search, thousands of people apply, and I was the only one from the Midwest. All the other 15 designers are from the coasts, and a lot of Asian designers also apply—Japanese, Korean, Chinese—but I guess I was lucky.
I never thought I could make clothes in one day, or two days—never thought that. I really shocked myself. Another thing is I was the designer on the show with the least experience in actual making garments. I have not touched industrial sewing machine for years. But I'm a very fast learner. I really made the design freshly on the spot, from really nothing, and learned sewing machine on the spot. I designed that first look without a single cut because I didn't have enough fabric—it's problem-solving. You want to make complicated pieces look effortless. I think a real good design, a smart design is the one that makes people go, "Wow, why didn't I think of that?"
Money and Sex
I personally feel Vogue is such a reputable magazine and this and that, but I feel like it's a marketing tool for luxury brands. The whole fashion industry is based on this, the image. If you don't have a very powerful marketing tool then why would people spend thousands of dollars on your products? If you really think about fashion, it's all about two things: money and sex. You buy expensive products to show off your status. So even though I'm in the fashion-design world, I still question this business as a whole.
This article by Jane Voodikon was originally published in
CHENGDOO citylife Magazine
, issue 31 ("success and failure"). Photos by
Ping Wu
.
http://www.gochengdoo.com/en/blog/item/1924/from_chengdu_to_chicago_by_design_no_one_has_no_impression_of_ping_wu